Unbottle and Protect Chaffee County Water
Stand Together
In opposition to the renewal of the Nestle Waters permit
Update! Nestle is scheduled to present their annual report to commissioners on March 9th. The next official meeting regarding the 1041 permit renewal is March. 16th, 2021. Zoom links for both dates are on the county's web page www.chaffeecounty.org (in the column on the right).
Watch presentations from the original Oct. 20, 2020 public hearing:  https://youtu.be/1bnmg4HcWM (2 hours of Nestle followed by one hour from the opposition).
What is this all about? Over ten years ago, concerned citizens of Chaffee County rallied and put up a fight when Nestle Waters of North America Inc. applied for a water mining permit to build a pipeline and extract up to 65 millions gallons of water annually from Ruby Mountain Springs.
Despite the great public outcry, the county commissioners at that time approved the permit.
Times have changed.
We know even more about climate change, and the effects of single-use plastic waste polluting water, filling landfills, and the difficulties associated with recycling it. We are in extreme drought and Chaffee County's population has drastically increased over the last decade.
As the Nestle permit is now under continued deliberation, we hope the current commissioners will vote for the citizens' interests, rather than for the interests of a multinational corporation. 
NEW! Sign up for email updates at the link below! 
Truckloads of water per day
Million gallons of water per year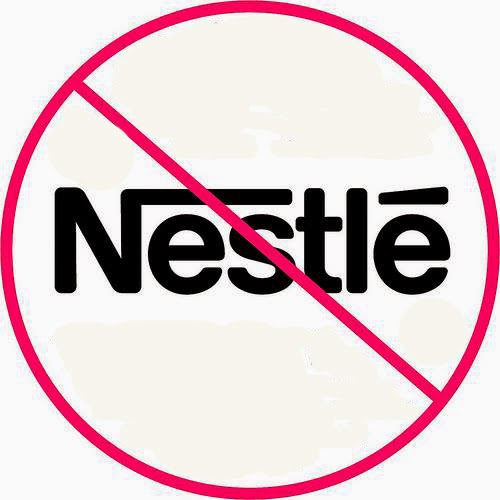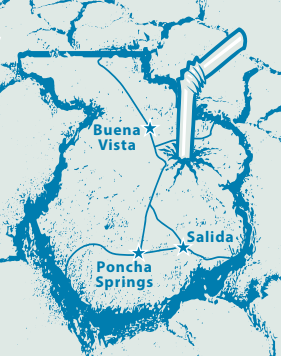 1. Operating on land of state-wide interest requires a 1041 permit
Chaffee County commissioners can choose to deny Nestle Waters' permit if they don't find that the "benefits accruing county and citizens outweigh loss of resources or losses of opportunity to develop resources." [1041 regulations 3-303 (1)(k)(vi)]
The permit could also be denied if they don't find that "the need for the project can be substantiated." Is Nestle's operation beneficial or needed? [1041 regulations 3-303 (1)(a)]
2. Nestle's "philanthropy" is mandatory
Nestle's community giving is a condition of their permit to mitigate the company's impacts. How much does it cost to silence opposition from local organizations? Compared to the profits this multi-billion-dollar company makes from the water extracted here, is the approximately $270k given to area schools over the span of a decade nearly enough?
3. Plastic Pollution issues have increased locally and globally
According to their annual reports, Nestle has contributed 292,596 plastic water bottles to the community since their permit was approved in 2009. Plastic pollution and global awareness of the issue has drastically increased over that ten-year term. Although Nestle requests another 10-year 1041 permit, such long terms are not necessary. Now days the county is subsidizing community recycling efforts. Should Nestle's donations of single-use plastic water bottles still be considered an asset, rather than an impact?
4. Non-Compliance and conflicts of interest
As part of the original permit agreement, Nestle offered to put their land (located next to what is now Browns Canyon National Monument) into a permanent conservation easement "concurrent with construction of the project." Over ten years have passed, and yet Nestle still has not done this. The company did, however, trade off the most valuable property, maximizing river frontage for the soon-to-be built Rio Frio Minor subdivision. A Nestle-paid consultant, who simultaneously served on the Chaffee County planning commission for 9 years, voted to approve the minor subdivision in Sept. 2019, before resigning from the county position this year.
Should an offer by Nestle to now put a conservation easement on their land, which surrounds the subdivision, still be considered fulfillment of their original agreement – despite the land swap? Nestle is floating a proposal to have Colorado Parks and Wildlife manage the land under a conservation easement if their permit is renewed. Is this seemingly philanthropic offer actually out of necessity because Nestle has not been in compliance with their land management plans (i.e. noxious weed management and grazing requirements)?
5. Sustainability and climate change
Nestle is currently allowed up to 200 gallons of water per minute, 65 million gallons per year, and up to 25 trucks per day. They have been taking less than half of that, so we can expect that impacts on the aquifer and traffic will more than double when they take the maximum amounts. Why wasn't increased production or climate change factored into a Nestle-provided report which determined their operation here "sustainable?"
Fortunately, Colorado water law requires Nestle to augment the water they extract. But does the replacement water, which comes from reservoirs and is released into the Arkansas River, mitigate all that is lost from the aquifer where Nestle's wells are located? And although the replacement water is deemed drinkable, is it the same quality as the "spring water" that Nestle sucks and trucks out of the Upper Arkansas River Valley?
6. Lack of transparency
Nestle, a Swiss company with a global reputation of humanitarian and environmental abuses, self-monitors and self-reports with little review by Chaffee County professionals. And Nestle has requested to do even less monitoring (technical revision #12).
Nestle spells out in their request for renewal that they wish to quickly renew their permit as-is and will request revisions later (when not under the scrutiny of a public hearing).
Why isn't a vetted third-party (one not of Nestle's choosing but paid for by Nestle) providing oversight?
7. Lack of local employment
Nestle failed to meet the permit requirement to hire at least 50% percent of their truck drivers from Chaffee County, despite relocating some drivers here. The company employed only 5 in 2019. The county expected far more local residents could be hired and those economic benefits were a factor when approving Nestle's permit in 2009. How will the difference between the economic benefit that was expected and the economic reality be recovered?
Back to point #1, Do benefits accruing county and citizens outweigh the losses? Is Nestle's operation needed here?