Unbottle and Protect Chaffee County Water
 Unbottle and Protect Chaffee County Water is a 501(c)(3) non-profit organization. We formed to represent Chaffee County Citizens who united  against renewal of a permit authorizing Nestle Waters to mine water from Ruby Mountain Springs.  Citizens armed with common sense and an increasing knowledge about climate change and plastic pollution knew this was simply not a good operation, but we built a solid case based on Nestle's permit non-compliance and broken promises.  
You can watch our first hearing presentation at the Oct. 20, 2020 public hearing here:  https://youtu.be/1bnmg4HcWM 
(it is 2 hours of Nestle followed by one hour from us "the opposition").
You can watch our final hearing presentation at the  June 1st, 2021 public hearing here:
https://chaffeecoco.civicclerk.com/Web/Player.aspx?id=451&key=-1&mod=-1&mk=-1&nov=0
(starting about 4:22:30 followed by Q&A and public comments). 
Unbottle Chaffee is committed to holding county public officials and the Blue Triton corporation accountable for permit compliance and transparency. In addition to serving as a watchdog group, we promote education about water issues and access to drinking water that is free of corporate commodification and plastic pollution.
We have a three-pronged approach:
–>TRUTH: Continue researching and reporting past processes
–> TRANSPARENCY: Watchdogging current permit compliance
–> TRANSFORMATION: Work for future sustainable solutions
 On July 6, 2021, Commissioners voted 2 to 1 to approve a 10-year permit for BlueTriton Brands
(formerly Nestle Waters).
 The company is permitted to suck and truck water from Chaffee County to Denver, where it is bottled, and sold in single-use plastic across the country as Arrowhead Brand Spring Water.
Un-bottle & Protect Chaffee County Water thanks Commissioner Keith Baker for his dissenting vote. 
We persist as a watchdog organization.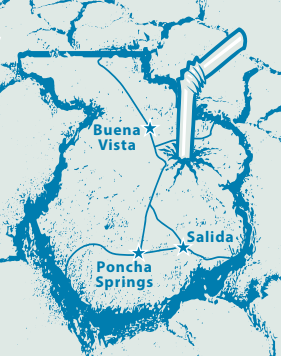 Truckloads of water per day
Million gallons of water per year
We are not alone in this struggle to free ourselves from the giant blue trident stabbed into our community!
In addition to mining water from Ruby Mountain Springs in Nathrop, Colorado…
The Arrowhead Brand is also piped from the San Bernardino Forest in California. Opposed by citizens represented by the Story of Stuff Project: https://www.storyofstuff.org/unbottle-water/san-bernardino/
Water mined in Maine, marketed as Poland Springs Brand, is opposed by citizens represented by Community Water Justice: https://www.communitywaterjustice.com/
 Water mined in Michigan, marketed as Ice Mountain, is opposed by citizens represented by Michigan Citizens for Water Conservation: https://savemiwater.org/
Water minded in Florida, marketed as Zephyrhills, is opposed by citizens represented by Our Santa Fe River: https://oursantaferiver.org/
And the Nestle Pure Life Brand is simply tap water that is bottled and sold in single-use plastic and opposed by Canadian citizens: https://www.wellingtonwaterwatchers.ca/