Unbottle and Protect
Chaffee County Water, LLC
Stand Together
In opposition to the renewal of the Nestle Waters permit
Unbottle and Protect Chaffee County Water was formed to educate and communicate with Chaffee County residents who stand in opposition to the renewal of the Nestle Waters permit.
A public hearing is now scheduled for Tuesday, October 20, 2020 at the Buena Vista Community Center at 1 p.m.
Ten years ago, concerned citizens of Chaffee County rallied and put up a fight when Nestle Waters of North America Inc. applied for a permit to build a pipeline and extract up to 65 millions gallons of water per year (up to 200 gallons per minute) from Ruby Mountain Springs.
Despite the great public outcry, the county commissioners at that time approved the permit.
Times have changed.
We know even more about climate change, and the effects of hauling up to 25 truckloads of water daily to Denver. We know more about single-use plastic waste polluting water, filling landfills, and the difficulties associated with recycling it.
Chaffee County's population has drastically increased over the last decade, and concerns over water availability for new developments have increased too.
As the Nestle permit is now up for renewal, we hope the current commissioners will vote for the citizens' interests, rather than for the interests of a multinational corporation. 
Sign the Petition on change.org
Public Hearing is currently scheduled
Truckloads of water per day
Million gallons of water per year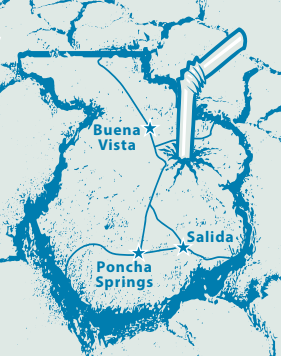 Commissioners can, at their discretion, choose not to renew the permit based on the following criteria not being met: "benefits accruing county and citizens outweigh loss of resources or losses of opportunity to develop resources."
The approximately $250k Nestle gave to area schools over the last 10 years was to meet the above criteria, it was not out of generosity. That amount of money is nothing compared to the multi-billion-dollar company's profits from the water they extract in Chaffe County.
Circumstances have changed over the last ten years. Climate change and plastic pollution issues have drastically increased since the permit was approved in 2009. The permit does not have to be issued in ten-year increments.
The permit's local jobs requirement has not been met. In 2018 Nestle asked for and was quietly granted some relief from the requirement to hire 50% percent of their truck drivers from Chaffee County (technical revision #13). Will those economic benefits which were factored in to approving the original permit just be lost? Without a required quota, will Nestle still offer incentives and higher salaries to hire local truck drivers?
The promise of a conservation land easement was never met. Only now that their permit is up for renewal again, is Nestle scrambling to show efforts to put land in a conservation easement. Would that condition be given teeth instead of just being voluntary? Nestle recently exchanged some land to allow a river-front residential development near Browns Canyon National Monument.
Allowing up to 200 gallons per minute, 65 million gallons per year, and up to 25 trucks per day is too much, especially considering climate change. Nestle has not been taking their full permitted amount of water, so consider that their effects on traffic and the aquifer will more than double when they do take the maximum allowed.
Colorado water law requires Nestle to replace the amount of water the company extracts. But does replacing water from Twin Lakes reservoir into the Arkansas River prevent loss to the aquifer where Nestle's wells are located? The replacement water is considered drinkable, but is it the same quality as the spring water? Nestle self-monitors and self-reports with little oversight and they have been requesting to do even less (technical revision #12).
Nestle, a Swiss company, has a global reputation of humanitarian and environmental abuses including child labor, unethical promotion, manipulating uneducated mothers, pollution, price fixing, and mislabeling. Why should Chaffee County citizens be expected to trust them?
Nestle's tax contributions have been low due to the land being considered agricultural.
Nestle Waters purchased land and a junior water right. But should the water being sucked and trucked out of the watershed qualify as a beneficial use of water?
Unbottle and Protect Chaffee County Water, LLC